In this session we will cover the basics of networking in AWS.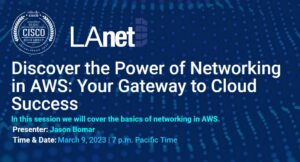 Your contact information is 100% safe with SCCUG. We will never rent, sell, give away or otherwise share your info with anyone. Trust us to keep your information safe.
The Southern California Cisco User Group is a virtual and physical community that meets once a month in person at the Glendale Cisco office and also thru our Facebook group. Since 1999, the SCCUG has been a gathering place for Cisco professionals to network with each other and discuss network technologies. We cover all topics related to Cisco from routing and switching to the latest topics on collaboration. All are welcome to participate online and in person. Come join us!